Pet essentials, Bank Holiday Sales, special outdoor products and much more can be browsable on ALDI Leaflet 21 - 28 May 2023! Browse this ALDI Weekly Leaflet and find the best specials!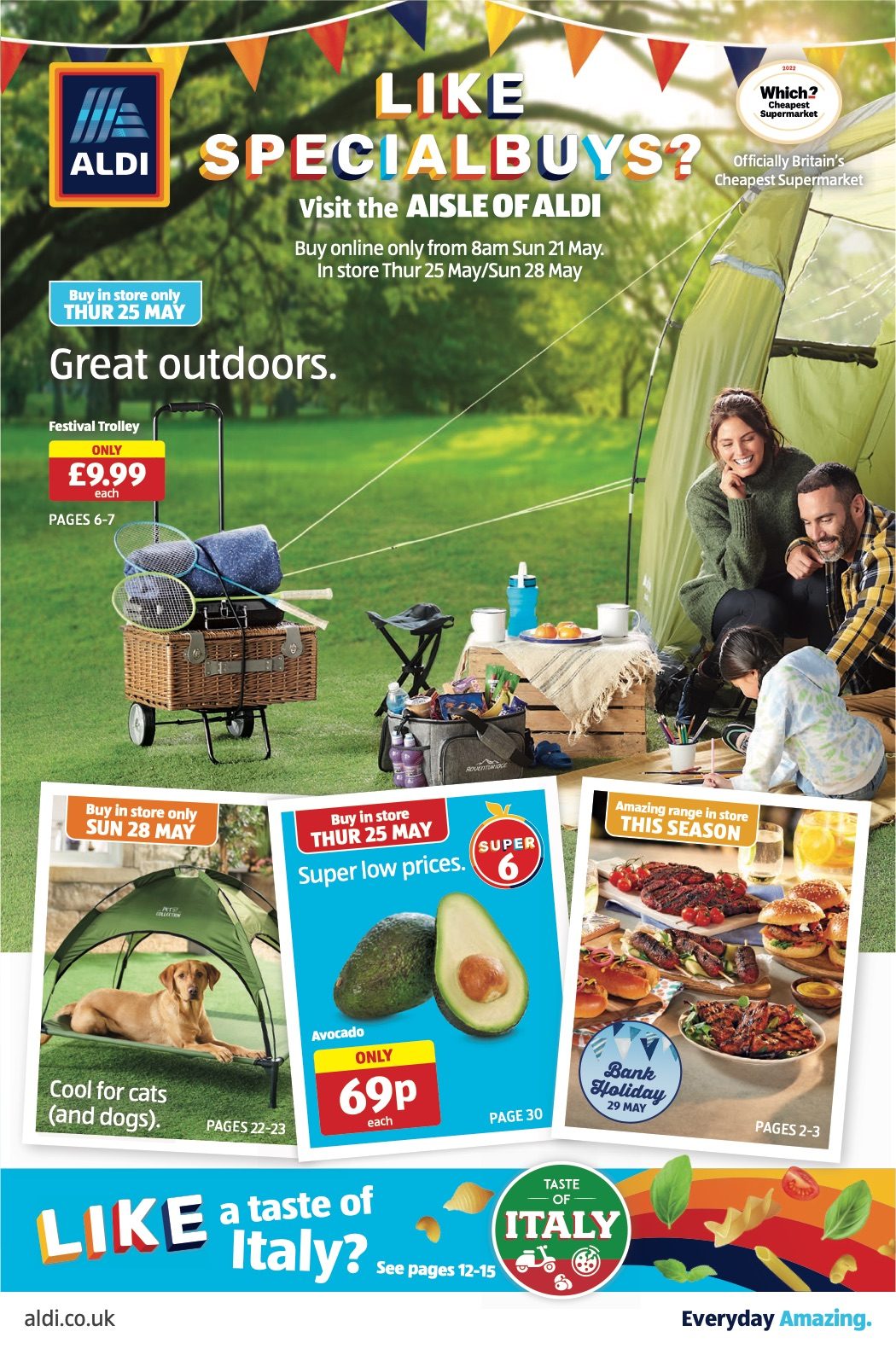 Bank Holiday Sale at ALDI
ALDI, a supermarket chain known for offering quality products at affordable prices, has become a major attraction for those looking to shop while enjoying the holiday season. During this period, ALDI's special discounts and offers will provide consumers with a great shopping experience. ALDI organizes special discounts and promotions on bank holiday weekends to offer customers even more savings. These offers not only reduce the budget of regular customers, but also attract the attention of new customers. ALDI's holiday offers typically focus on variety and low prices. For example, you can offer an all-inclusive package for a barbecue party and offer discounts on meat and fish products. Plus, you'll get great discounts on the following essential products for your summer activities: B. Picnic accessories, drinks, fruits and vegetables. In addition, ALDI will host a specially prepared 'Super Sale' event over bank holiday weekends. In such cases, the usually expensive products are offered at deep discounts. You will find attractive offers in various categories such as appliances, furniture, home goods, clothing and accessories. These events allow ALDI to offer customers a wide range of products as well as affordable shopping opportunities.
ALDI Specials This Week
Ashfields Chicken Wings 1.3 kg, £4.99
Hot Dogs 600g, £3.49
Still Lemonade 1 litre, £1.29
Vintage Cheese Slices 160g, £1.99
Ashfields Grill British Marinated Pork Belly Slices 400g, £3.49
Flavoured Beef Burgers 340g, £2.99
Pineapple Cocobay 250mk, 99p
Haysmith's Premium Gin & Tonic 250mk, £1.29
Great Outdoors at ALDI
The best way to enjoy your time outdoors when you're immersed in the incredible beauty of nature is to browse the outdoor and picnic products at the ALDI Store. Known as a retail chain that offers quality products at affordable prices, ALDI is where you can find everything you need while enjoying the great outdoors. Go ahead, explore what ALDI has to offer and stock up on everything you need for a fun picnic experience. Picnics are one of the most beautiful moments in harmony with nature and are made even more enjoyable with the right equipment. The ALDI store offers a wide range of picnic supplies. Let's start with the picnic blanket. ALDI offers many colorful and stylish picnic blanket options. Made from soft and durable materials, these blankets create a comfortable seating area. Plus, it's easy to clean. You can enjoy a pleasant picnic moment without worrying about anything. ALDI also stands out in picnic baskets. The picnic basket can store all the important things you need when you have a picnic together. Inside you will find everything you need: plates, cutlery sets, cups, napkins. ALDI picnic baskets come in a variety of sizes and designs, so you can choose the one that best suits your needs and tastes. One of the most important elements of a picnic is food. ALDI enriches your picnic fun with delicious, fresh food. The store stocks snacks, fruits and vegetables, sandwich ingredients and more. ALDI's fresh products are of the highest quality and come straight from the farm to your table. Here's how to have a natural and healthy picnic experience.
ALDI Offers This Week
Festival Trolley each, £9.99
Single Air Bed with Foot Pump each, £11.99
Foldable Cooler Bag each, £9.99
Portable BBQ each, £29.99
Collapsible Light Up Water Bottle each, £12.99
14 ft Rattan Pool each, £299
Cool Comfort with Slumberdown at ALDI
A comfortable sleep in bed is one of the most important factors that affect your daily life. The quality of your sleep recharges your batteries and helps you be productive throughout the day. Therefore, choosing the right mattress and bedding products is important. Featuring Slumberdown branded products, ALDI stores aim to provide customers with a comfortable and quality sleep experience. Slumberdown is a specialty brand of sleep products available at affordable prices from the ALDI store. The brand has been using innovative technology to improve the comfort of your sleep for years. The product range includes pillows, duvets, mattress protectors and mattress pads. Whether you're a back sleeper, side sleeper, or stomach sleeper, Slumberdown's extensive product line offers options for every sleeping position and preference. The Slumberdown pillow has been carefully designed to improve your sleeping comfort. Soft and supportive pillow options help your head and neck align properly and promote relaxation during sleep. The soft microfiber filling material maintains the shape of the pillow and does not compress over time, ensuring the same comfort even after extended use. When it comes to duvets, Slumberdown offers options for different seasons. Choose from a lightweight comforter to keep you cool and comfortable in the summer, or a thick comforter to keep you warm in the winter. The duvet is breathable and made from hypoallergenic materials, making it an ideal choice for those with allergies. High-quality filling materials ensure the softness and comfort of your duvet for a long time.
ALDI SpecialBuys This Week
Slumberdown Summer Fresh Pillows 2 pack, £8.99
Slumberdown Summer Mattress Protector double, £6.99
Cooling Fitted Sheet double, £7.99
Slumberdown Summer Fresh Duvet, £11.99
Cooling Pillowcases 2 pack, £3.99
Ferrex Products at ALDI
ALDI offers quality products at affordable prices in a variety of areas, from household and garden tools to electronics. ALDI offers a wide range of superior products under the Ferrex brand name. Ferrex is a brand characterized by durability, performance and competitive pricing. This article details his Ferrex products from ALDI and how you can benefit from them. Ferrex is known for its powerful and durable electric hand tools. Ferrex's quality product range includes cordless drills, saws, grinders and many other tools. These tools are equipped with powerful motors and are useful for construction projects and home repair work. ALDI's Ferrex products are an ideal choice for those looking for quality and affordability. Equipped with powerful hand tools for home projects and gardening tools to keep your yard tidy, his Ferrex makes household chores a breeze.
ALDI Special Offers This Week
Activ Energy 20V Battery each, £16.99
Activ Energy 20/40V Battery each, £26.99
Ferrex 20V Cordless Mitre Saw each, £89.99
Ferrex 20v Cordless Sander Assortment each, £29.99