New Super 6 Sale, Toy Sale, specials for Christmas, and much more products are waiting for you at ALDI Leaflet 9 - 12 November 2023! Let's check it out and view the latest ALDI Special Buys!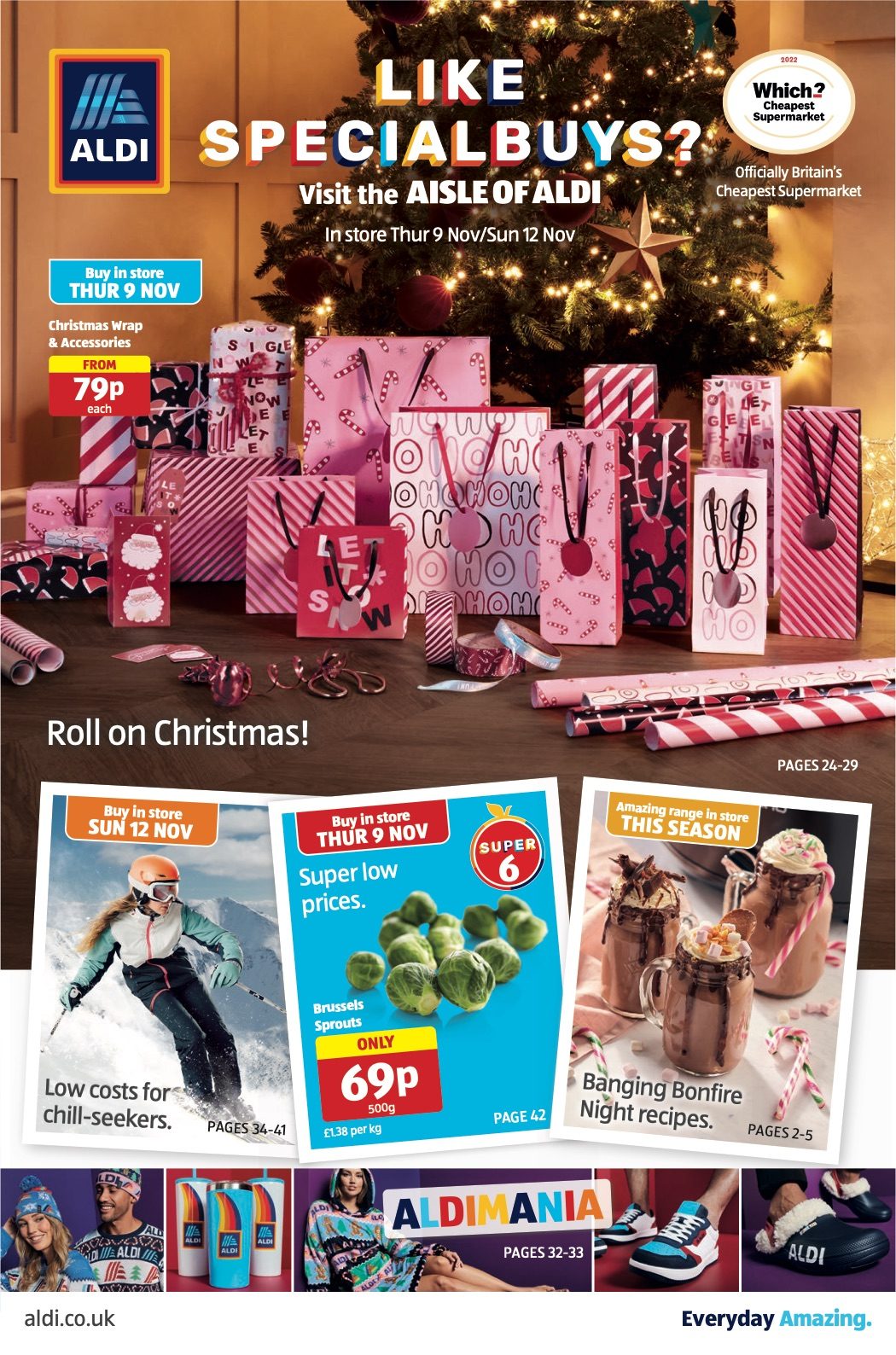 ALDI Christmas Specials This Week
ALDI is giving you a great opportunity to make your Christmas shopping even more special. This year, ALDI will offer LEGO-like toys and exciting Christmas deals that will make your shopping unforgettable. As the holidays approach, get ready to discover how you can save and make your loved ones happy with ALDI's Christmas specials.
ALDI Adds a Whole New Dimension to the Toy World
As every year, ALDI offers great LEGO-style toys that will make kids and families smile. These toys, perfect for placing under the Christmas tree, help children develop their creativity while providing hours of fun. ALDI's Christmas special is full of these toys designed especially for LEGO enthusiasts. LEGO-like toys at ALDI feature rich details, diverse themes and high-quality materials. With options like Star Wars, City and many other themes, children can have fun without limiting their imagination. The best part is that the prices of these toys at ALDI are much more affordable than other stores
Time to Save with ALDI Christmas Specials
Christmas shopping can often put a strain on your budget, but with ALDI's Christmas promotions then this won't be a problem. Thanks to the great deals and unbeatable prices offered by ALDI, your wallet will be happy while shopping too. ALDI's Christmas specials are full of great toys to put under the Christmas tree, delicious snacks and other products the whole family will love. ALDI Special Christmas offers with LEGO-style toys and affordable prices will make the Christmas season unforgettable. You can delight your loved ones and share the holiday spirit without breaking the bank when you shop at ALDI. Don't miss the opportunities that ALDI is bringing to you this holiday season. Make your Christmas shopping extra special with ALDI's Special Christmas Deals and treat your loved ones to a holiday filled with fun and toys. Don't forget that at ALDI, everything is just a call away!
ALDI Specials This Week
XL Christmas Squ Squishees each, £19.99
LEGO Large Creative Brick Box each, £32.99
Playmobil Play Set, £14.99
Playmobil Gift Set, £6.99
LEGO Set, £6.99
LEGO Friends Set, £6.99
Pop-Up Tent each, £9.99
Gobby's Dollhouse Plush each, £6.99
Gabby's Dollhouse Surprise Figure Set, £3.49
Glam Strands each, £14.99
Gabby's Dollhouse Figures each, £7.99
LittleTown Foot to Floor Ride-On each, £14.99
Fisher-Price Toy each, £19.99
Sylvanian Families Baby Themed Play Set, £12.99
WWE Dress Up each, £14.99
Convertible Board Book each, £5.99
Sponge Art Craft Kit each, £3.99
Mini Quiz each, 99p
Christmas Squishees each, £6.99
Children's Christmas Pyjamas each, £4.99
DIY Gingerbread House Kit each, £5.99
Dairyline Mug Melt 65g, £1.99
Redefine Your Home Atmosphere with ALDI
Our homes are where we reflect our personality and style, so every detail counts. That's where the great deals and unbeatable prices from ALDI UK stores come into play. ALDI has a full range of home products that will help you create a cozy atmosphere.
The Magical Touch of Candles
For those seeking warmth and romance at home, the ALDI candle collection is truly enchanting. Thanks to ALDI's great deals, you can get these candles at affordable prices.
Elegance with Decorative Items
ALDI's decorative collection makes it easy to redecorate your home. Wall decorations, cushions, paintings and more options to suit every taste and budget. You can personalize your home and create an atmosphere that reflects your personality with these items. Thanks to ALDI's great deals, you can buy these decorations at reasonable prices.
Stylish Tablecloths
If you want to make your table more attractive when entertaining guests or for special occasions, then ALDI's elegant tablecloth may be just what you're looking for sword. Tablecloths come in a variety of designs and sizes, instantly adding elegance to your dining table.
Savings with ALDI Offers
ALDI is known for its great deals when it comes to home products. ALDI offers include regularly updated campaigns and discounts, allowing you to buy products that satisfy all tastes and needs at reasonable prices. Enjoy quality products without breaking the bank while redefining the atmosphere in your home. You can find everything you need to create a cozy atmosphere at ALDI stores across the UK. Candles, decorative items, elegant tablecloths and more will make your home special and welcoming. Redefine the atmosphere in your home with great offers and unbeatable prices from ALDI. Visit ALDI and make your home warmer, more stylish and more personal.
ALDI Offers This Week
100% Cotton Filted Sheet, £7.99
Slumberdown Feels Like Down Mattress Protector, £7.99
Velvet Jacquard Duvet Set, £24.99
Slumberdown Feels Like Down Pillow Pair, £7.99
Luxury Soft Rug each, £39.99
Winter Scene Lantern each, £6.99
Seat Pads 2 pack, £7.99
Metallic Tablecloth, £8.99
Lit Pampas Grass each, £12.99
Chunky Bath Mat each, £7.99
Great Opportunities for Winter Sports Enthusiasts
With the arrival of winter, excitement is soaring for ski enthusiasts! ALDI includes ski jackets, thermal undergarments, gloves, neck warmers, and more. You can access winter sports equipment at affordable prices with ALDI Ski Specials.
The Hottest Winter Trends
ALDI offers a broad product selection to meet the needs of ski enthusiasts. Ski jackets keep you warm by keeping the wind and cold at bay, featuring waterproof properties. Thermal undergarments help maintain your body temperature, ensuring comfort even in cold weather. Gloves and gaiters provide added protection and warmth.
Outperforming Prices
ALDI Ski Specials not only offers high quality products but is also available at the most competitive prices. ALDI encourages people to participate in this exciting sport by providing winter sports equipment at a lower cost. Investing in quality equipment is no longer a luxury.
Unbeatable Deals for Ski Specials
The benefits you'll get from ALDI's ski specials go far beyond the affordable price. They also offer special discounts, fast shipping options, and return policies to customers. This way, ski enthusiasts can focus on winter sports and enjoy their shopping experience. Winter's arrival is a time eagerly awaited by skiing enthusiasts. Quality ski jackets, thermal underwear, gloves and neck warmers, among other products, are offered to customers at affordable prices. This winter sports season, by taking advantage of the ALDI campaign, you'll stay warm and your wallet protected. If you're an avid skier, be sure to check out ALDI's brochures to make sure you don't miss out on any ALDI Ski specials. You can enjoy winter sports by taking advantage of these great opportunities.
ALDI Special Buys This Week
Ski Jacket each, £24.99
Ski Seamless Baselayer Top each, £5.99
Seamless Baselayer Leggings for ski each, £5.99
Ski Gloves pair, £5.99
Inoc Ski Merino Wool Zip Neck Top each, £24.99
Ski Hoodie each, £12.99
Ski United Fleece Lined Hat, £3.99
Neckwarmer for Ski, £3.99
Ski Goggles each, £12.99