Beauty products, Super 6 Sale, BBQ Seasons products, and much more are featured on
ALDI Specials 5 March 2023
! You can also discover perfect spring home specials with this ALDI Leaflet. Let's take a look at these ALDI Offers!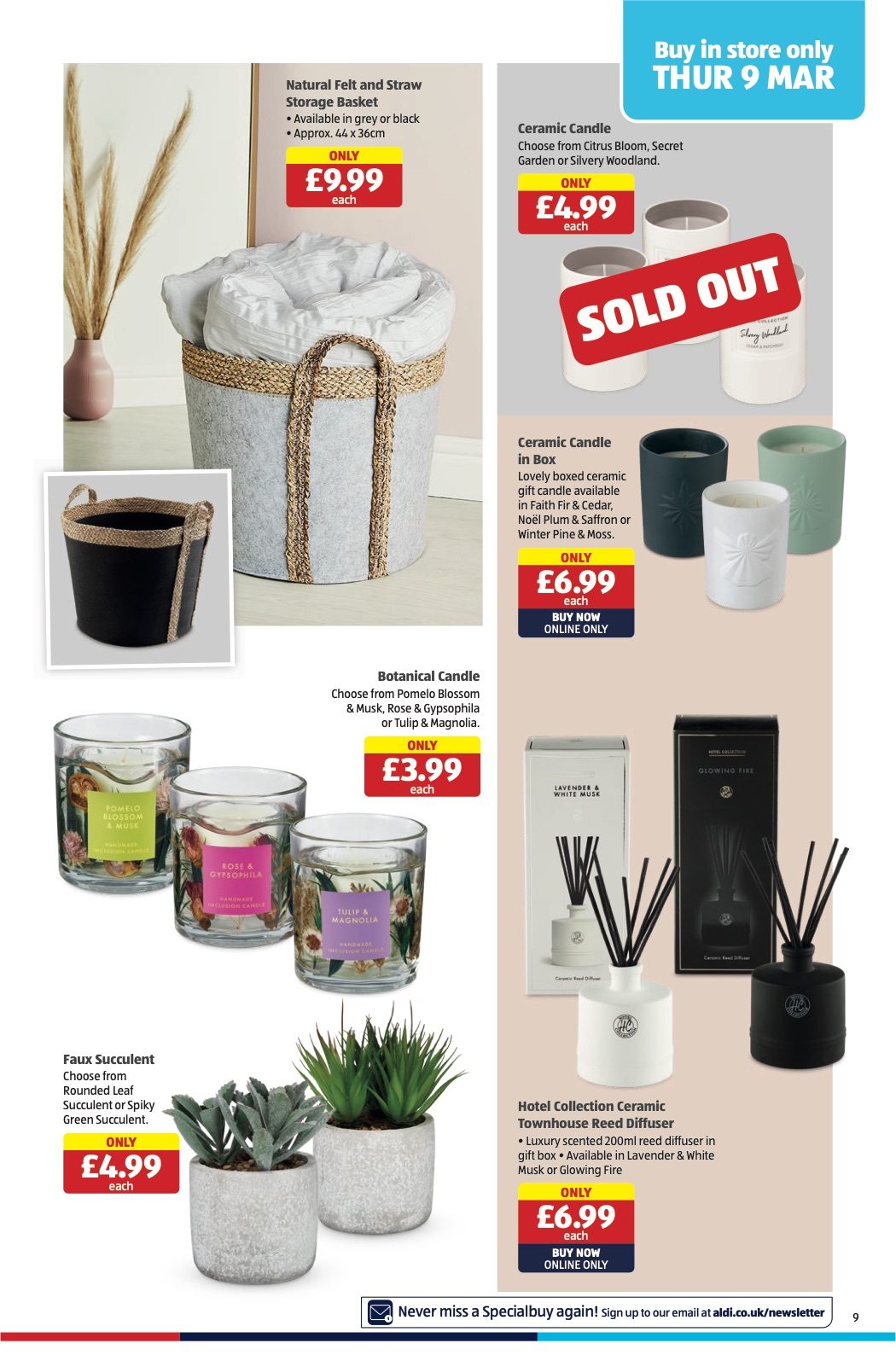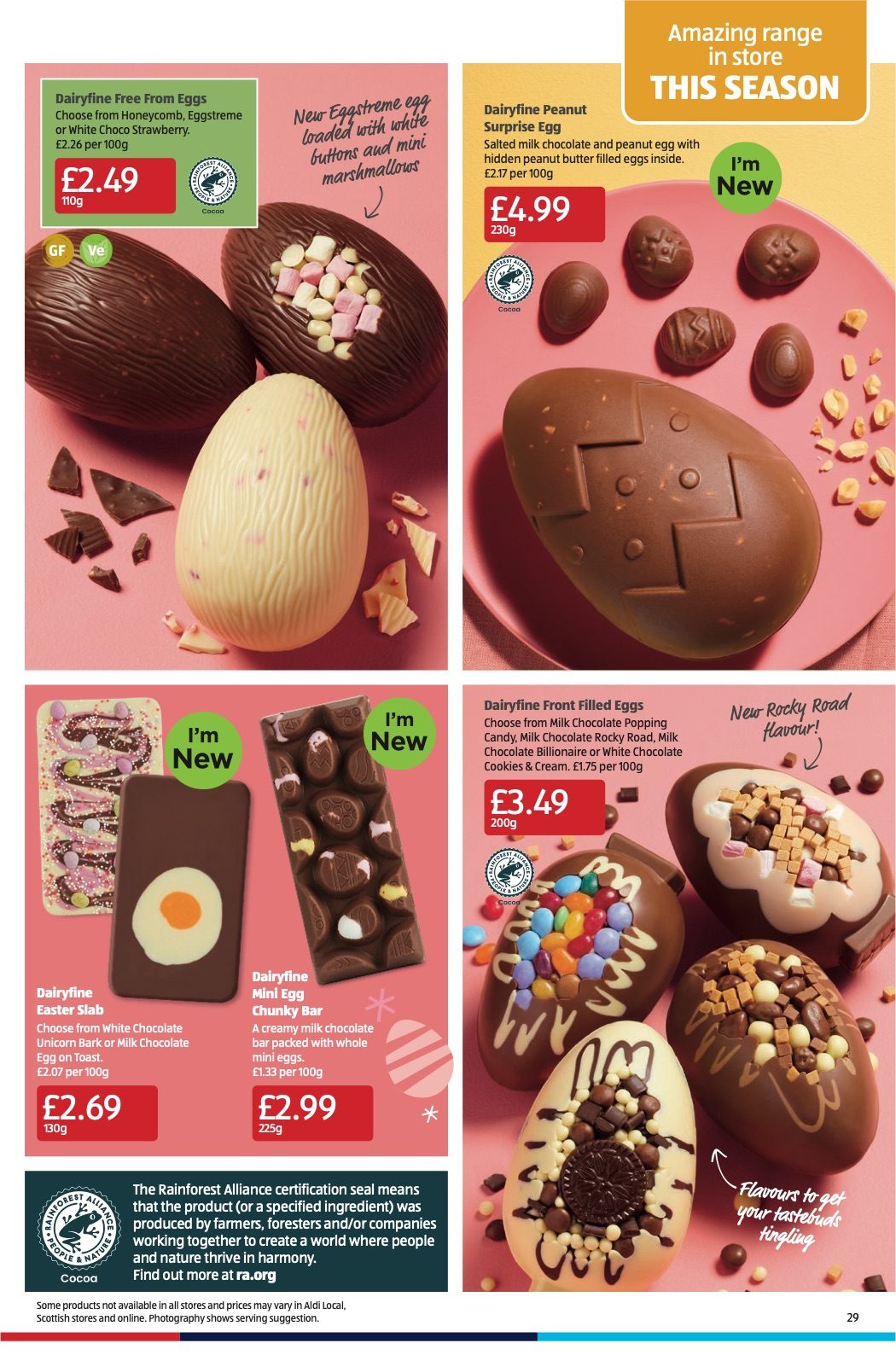 Sleep Easy with ALDI Special Buys
Who can say no to a more comfortable sleep? There are some products necessary for a comfortable sleep. By purchasing these products, you can improve your sleep quality. Comfy pillows, comfortable beds and blankets. If you choose these products well, you can have great sleep.
ALDI offers
you many great products. Among them, there are many products from anti-allergic pillows to blankets. Also, if you care about the decoration of your bedroom, there are also great duvet sets available here.
ALDI Leaflet This Week
Easy Care Duvet Set, £9.99
Easy Care Fitted Sheet, £4.99
Slumberdown Anti Allergy Duvet, £16.99
Slumberdown Anti Allergy Mattress Protector, £8.99
Anti Allergy Pillow Pair, £8.99
Silentnight Perfect Pillow each, £12.99
Ribbed Faux Fur Cushion each, £9.99
Ribbed Faux Fur Throw each, £29.99
XL Ribbed Faux Fur Throw each, £39.99
Waffle Frill Throw each, £24.99
Waffle Frill Cushiın each, £8.99
Ultrasonic Aroma Diffuser each, £14.99
Air Purifier with LED each, £49.99
Home Decors at ALDI
In addition, there are many products that will offer great advantages to the decoration of your home. There are many products available here, from decorative mirrors to stylish carpets. You can buy these products at reasonable prices and have them for little money. These trendy products are specially selected by
ALDI
and brought to you. Let's take a look at this specials and enjoy shopping in
ALDI Stores
!
ALDI Special Buys This Week
Arch Mirror each, £89.99
Faux Fur Rug each, £14.99
Natural Felt and Straw Storage Basket each, £9.99
Ceramic Candle each, £4.99
Ceramic Candle in Box each, £6.99
Botanical Candle each, £3.99
Faux Succulent each, £4.99
Hotel Collection Ceramic Townhouse Reed Diffuser, £6.99
Rattan Mirror with Shelf each, £24.99
Radiator Cover each, £39.99
Hanging Wicker Decoration each, £9.99
Rattan Shelf each, £29.99
DAB Radio each, £34.99
Round Nested Tables set, £39.99
Hallway Mirror and Pegs each, £24.99
Welly Stand each, £29.99
Sherpa Rug each, £39.99
Foldable Storage Bag each, £4.99
Wooden Carving Board each, £12.99
Large Contemporary Rug each, £44.99
Electric Lazy Susan each, £39.99
Small Marble Effect Pan each, £9.99
Tea Towels 3 pack, £4.99
Bamboo Cutting Boards 2 pack, £5.99
2 Tier Dish Drainer / Under-Sink Storage / Drawers, £12.99
Oven Dish each, £9.99
Kitchen / Baking Utensils each, £1.99
Affordable Cleaning Appliances at ALDI
You can buy some necessary products for an effective cleaning from
ALDI
. Great solutions await you at very fair prices. Many products from mops to vacuum cleaners are on sale here. Also, great tools for window cleaning are available here. For example; Buy Tower's power window cleaner for just £19.99 here. Products of Tower are on discount now! Let's take a look at these
ALDI special buys
and buy the best at low prices!
ALDI Specials This Week
Tower Steam Mop each, £34.99
Tower Electric Window Cleaner each, £19.99
Cordless Vacuum each, £59.99
Tower Handheld Vacuum each, £34.99
Beauty Products at ALDI
It is important to consider your mother's personal preferences and skin type when choosing cosmetics to buy on Mother's Day. Moisturizing the skin is important for maintaining a healthy and youthful appearance. You can choose a moisturizer suitable for your mother's skin type. ALDI has great products from Lacura. Check out these products and buy from ALDI Stores at reasonable prices. Sun rays can cause skin aging and can lead to cancer. Therefore, you can gift sunscreen to your mother. This can protect your mother's skin. Lacura's sun care products are also available at
ALDI
. Do not forget to review these products. ALDI also has make-up products. If your mom does make up, you can gift her a new lipstick, blush or eyeshadow palette. Don't forget to review Lacura makeup products. If your mother is interested in pleasant scents, you can gift her a new perfume. Many Lacura perfumes are waiting for you at ALDI.
ALDI Offers This Week
Ladies EDP 100ml, £5.99
Stylpro Ice Globes / Ionic Skin Scrubber Ice Globes, £24.99
Lacura Lipstick / Gloss / Lip Liner each, £2.99
Lacura Microblade Effect Brow Pen / Gel each, £3.49
Take Cover Concealer each, £3.99
Lacura Girl Gone Bad Mascara each, £5.99
Lacura BB Cream 50 ml, £2.99
Vibrating Rose Quartz Roller each, £14.99
Facial Pore Cleanser / Silicone Facial Cleanser each, £9.99
Lacura Vitamin C Serum / Face Cream 30ml, £5.99
Lacura Vitamin C Eye Cream / Cleanser, £4.99
Pink Clay Exfoliator 100ml, £2.99
Lacura Pink Clay Mask 50ml, £5.99
Stylesmile Full Teeth Whitening Kit each, £69.99