Boots Offers 23 August 2022
is a good address to find the best makeup products this week. A wide product range and savings up to 50% are available on this
Boots Leaflet
! Browse it and buy your needs at low prices.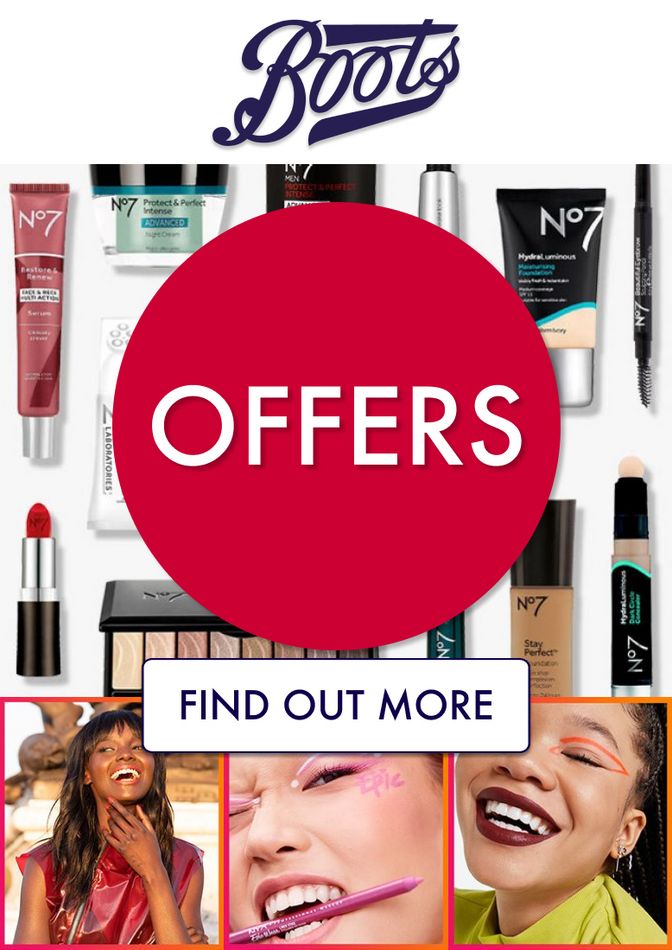 Boots Offers 23 August 2022
Make-up materials, one of the indispensable parts of female users, turn into magic when done with the right techniques. It makes individuals feel better and allows them to close the flaws. Some techniques need to be done in order to do the makeup correctly. If these techniques are known, make-up materials must be of high quality. If the make-up material is not of good quality, it creates negative effects on the skin and creates new imperfections instead of covering the skin imperfections.
Boots offers
users high quality and multi-category materials! Materials can sometimes be sold separately or as a set. You can find all the makeup products you need within their body. Everyone has different makeup styles. Some users care about eye make-up, while others care about skin-based make-up. Depending on this, the products used change.
Boots Offers This Week;
Make-up products can be diversified by dividing into many categories such as eye make-up, lip make-up, brush set. Brush sets may not always be included in the make-up kit. Make-up brushes are a must-have for women who care about make-up. Brushes are used in the application of many materials such as foundation, eye shadow, lipstick. In addition, the types of brushes used for each facial area are different from each other. For example, the foundation brush ensures that the foundation is evenly distributed over the face and prevents the formation of roughness on the skin. You can find many useful makeup brushes at
Boots
.
Boots makeup products
have a collection that can adapt to every user. Due to the different expectations of the users, they add many varieties to their product range. The most important point here is that it is of good quality and does not have a negative effect on skin health.
IT Cosmetics Products at Boots!
Your Skin But Better CC+ Cream with SPF 50 32ml, £26
Travel Mini Your Skin But Better CC Cream SPF 50+ 12ml, £11.60
Bye Bye Pores Face Powder Translucent, £21.60
Heavenly Luxe and Concealer Make Up Brush, £28.80
Bye Bye Pores Loose Powder Translucent, £20
Bye Bye Under Eye Concealer, £18.80
Tightline Mascara Black, £18.40
Brow Power Eyebrow Pencil Universal Taupe, £17.20
Your Skin But Better Setting Spray+, £9.60
Brush Love Brush Cleaner Mini 30ml, £8.80
Heavenly Luxe Limited Edition Complexion Perfection Brush, £28.80
Confidence in Your Beauty Sleep, £12
Ultimate Eye & Brow Duo, £27.88
Confidence in a Rosy Tone Face Moisturiser with Squalene Peony Extract 60ml, £35.20
Bye Bye Dark Spots Niacinamide Serum, £16.80
Brow Power Micro Eyebrow Pencil, £17.20
Superhero Mascara Black, £18.40
Confidence in Your Beauty Sleep Hyaluronic Acid Night Cream with Ceramides 60ml, £37.60
Bye Bye Lines Hyaluronic Acid Serum, £16.80
Bye Bye Pores Bronzer, £21.60
Confidence in a Cleanser Serum 148ml, £20.80
Bye Bye Dullness Vitamin C Serum, £16.80
Heavenly Luxe Flat Top Buffing Foundation Make Up Brush, £28.80
Bye Bye Pores Glycolic Acid Serum, £16.80
Confidence in a Gel Lotion Travel Size, £8.80
Heavenly Luxe Retractable Concealer Make Up Brush, £17.60
Superhero Eyeliner, £17.20
Your Skin But Better Setting Spray+ 100ml, £18.40
Ombré Radiance Bronzer - Warm Radiance, £20
Hello Results Wrinkle-Reducing Daily Retinol Serum-in-Cream 50ml, £46.40
Follow Boots Offers to save more!
Here you have seen the latest discount offers of
Boots
. Start taking note of everything you need for your personal care and beauty. Boots leaflets of selected products with the next great deals will appear on their category page. We recommend that you go shopping after visiting this page regularly. As you can see, it's entirely up to you to suddenly halve the amount you will pay and, as a result, to save a significant amount of your budget. Thanks to these offers, you can buy as many gifts as you want for yourself and your loved ones, and you can always enjoy discounted shopping. Just take a few moments to check out their offers.