The BIG TOY Event has been published by
Lidl Offers 1 December 2022
! Not only this event but also many special parts such as deals for your weekly meals, festive flavors, and winter plants are available on this
Lidl Weekly Leaflet
. Check it out!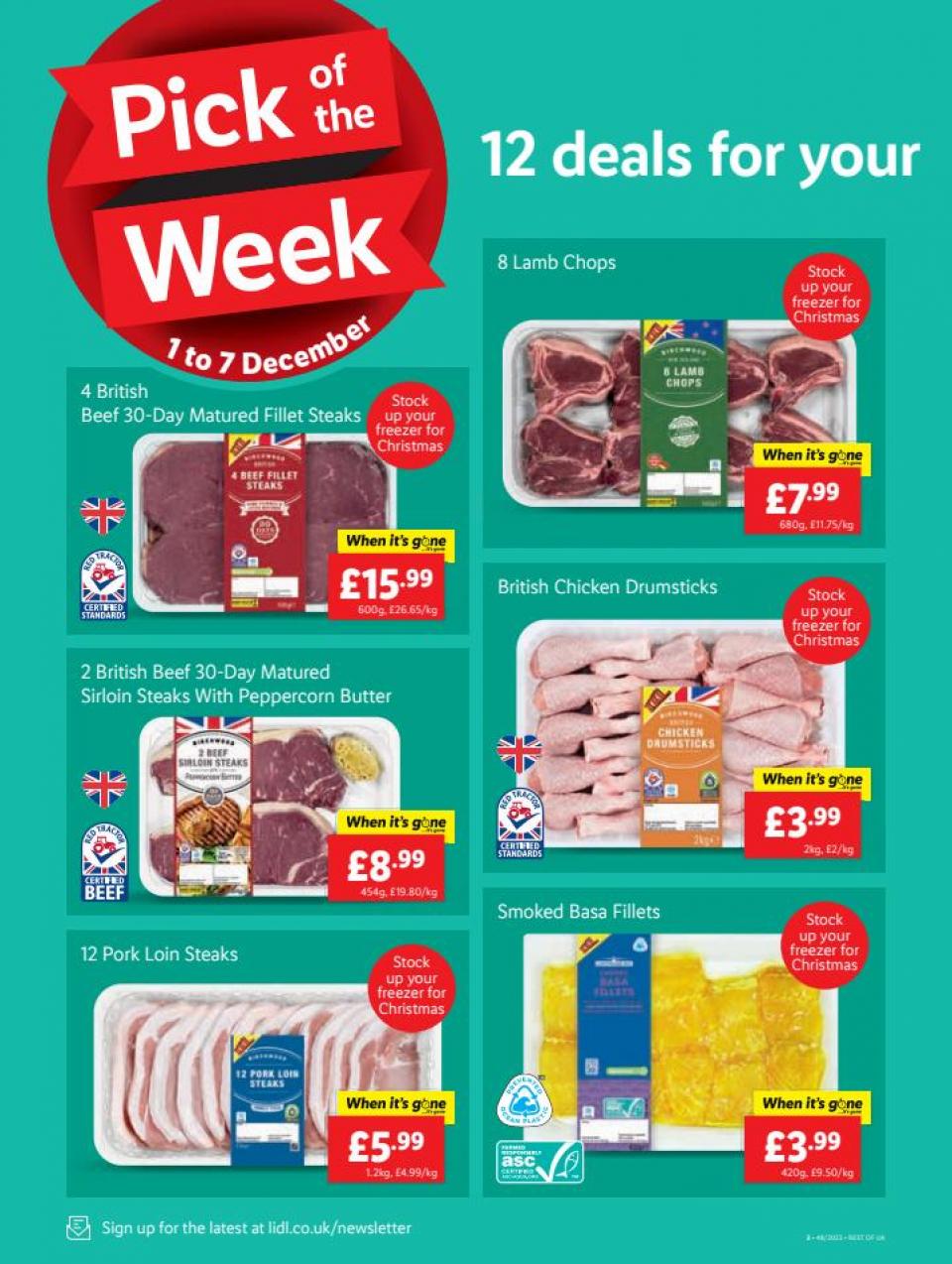 12 Deals for your weekly meals!
4 British Beef 30-Day Matured Fillet Steaks, £15.99
8 Lamb Chops 680g, £7.99
2 British Beef 30-Day Matured Sirloin Steaks with Peppercorn Butter, £8.99
British Chicken Drumsticks, £3.99
12 Pork Loin Steaks, £5.99
Smoked Basa Fillets, £3.99
British Chantenay Carrots 300g, 39p
British Braeburn Apples, 99p
Red Onions 1 kg, 59p
Asparagus Tips 125g, £1.19
Brussels sprout Tree, 99p
Festive Flavors to Savour;
Get ready to enjoy Christmas with delicious food! View many great looking and great options at
Lidl's
great prices. Check out everything from great drinks to popular foods here. If you find your favorite product here, don't miss it! From Kinder chocolates to cookies, you'll find a wide selection here. Find everything you need for the best times of Christmas at
Lidl
! Enjoy great prices too!
Lidl SpecialBuys This Week;
Smoked Danish Rainbow Trout 300g, £6.99
Olives 150g, £1.99
Octopus Carpaccio 150g, £3.99
Lumpfish Caviar 100g, £3.29
Premium Pate 200g, £3.29
Anchovy Fillets 200g, £2.49
Pork Liver & Game Pate 250g, £2.29
Casereccio Salami 250g, £2.99
Truffle Mortadella 100g, £1.99
Italian Antipasti Platter 200g, £3.49
Salami 150g, £1.99
Jamon Serrano Gran Reserva Sliced Ham 80g, £2.19
Italian Sausage 100g, £1.99
24-Month Matured Parma Ham Platter, £3.99
Carpaccio with Parmigiano Reggiano 120g, £3.49
Bresaola Della Valtellina IGP 80g, £2.69
Prosciutto Crudo 100g, £2.49
Gnocchi with Truffle 500g, £2.29
Panzerotti with Prawn & Crap Filling 250g, £2.29
10 Pigs in Blankets 210g, £2.49
Bruschetta Spread 190g, £1.49
Chillis in Extrema Virgin Olive Oil 170g, £1.99
Truffle Cheddar with Barber's Somerset Cheddar, £2.99
30-Month Matured Handmade Vintage Cheddar 400g, £4.99
Premium Waxed Truckles 200g, £2.79
Baywood Gingerbread Muled Wine 75cl, £3.49
Jacob's Biscuits for Cheese 900g, £5.99
Deluxe French Cheese 150g, £3.29
Lidl TOY Event!
Accessory dolls, wooden toys, various construction games, figurines, stuffed animals, early learning toys... Find all your games and toys for kids at the best price in a full assortment at affordable prices! Whether you're looking for toys for ages 3, 7 or 12, remember that
Lidl
has products for kids of all ages. This
Lidl Catalogue
covers a wide variety of toys, from creative and educational fun to helping your child grow. Does your child like plush animals? View many varieties at affordable prices here! Find the collection of Disney and Morgan princesses as well as Barbie dolls. Many dolls come with accessories and even cars or houses to expand your collection. For car enthusiasts, there is also a wide selection of cars for babies, for playing in the garden and for building, at
Lidl
. Speaking of building sets, you'd better take a look at the Lego items.
Lidl Toy Specials This Week!
Oftentimes, plush toys are the first developmental toy in a baby's hands. The older they get, the more they will want to explore the world. Early learning games are great for helping our little explorers grow up gently. Depending on the age, the needs of the child are not the same. Therefore, it is important to adapt the game to the baby's developmental stage so that the baby can use the game and develop his skills correctly. Discover the many toys for children aged 0 to 3 in this selection of games by age. You'll find wake-up tools like rattles, teething rings, sensory balls, and quilts for babies. There is also a wide range of construction toys and puzzles, usually wooden, for children aged 1 to 2 years to learn motor skills and develop their imagination.
Lidl
selects the best products to guarantee you the best quality.
Lidl Offers This Week;
Weebles My Little Pony / Cocomelon / Peppa Pig / Bluey Weebles, £9.99
Model Kit, £6.99
Baff Bombe, £9.99
Peppa Pig Household Appliance Play Set, £8.99
Enchanted Fairy Village, £9.99
Eco Plush 8" Soft Toy Assortment, £6.99
Little Live Pets Assortment, £8.99
Roald Dahl Box Set, £19.99
Messi Training System, £24.99
Brainstorm Toys My Very Own Solar System, £19.99
Remote-Controlled Stunt Drone, £19.99
Jurassic World Dominion Power Flight Dinasour, £19.99
Peppa Pig and Hey Duggee Pig Telephone, £12.99
Carrera Go Race Track, £49.99
Play Kitchen, £49.99
Doll's House Furniture, £6.99
Wooden Doll's House, £39.99
Wooden Activity Toys each, £29.99
Battery-Powered Wooden Train, £7.99
Wooden Kitchen & Shop Appliances, £14.99
Emergency Vehicle Set, £6.99
Wooden Train Set, £19.99
Remote Control Train, £9.99
2 in 1 Baby Clinic and Vet Play Set, £39.99
Kids' Slippers, £5.99
Toy Cash Register, £14.99
Avengers or Star Wars Action Figure, £6.99
Siku Vehicles each, £5.99
Lexibook Educational & Bilingual Laptop, £24.99
Hot Wheels Vehicles, £6.99
Barbie Holiday House, £29.99
Mattel Barbie / Hot Wheels Assortment, £7.99
Funko Pop Figure each, £8.99
Ravensburger Gravitrax Starter Set Lite, £36.99
3D Puzzle - Famous Buildings each, £2.99