Explore Italian flavors, kitchen essentials, sewing, DIY, and much more deals with
Lidl Offers 16 February 2023
! You can view the pick of the week and experience a good weekly grocery shopping in their stores!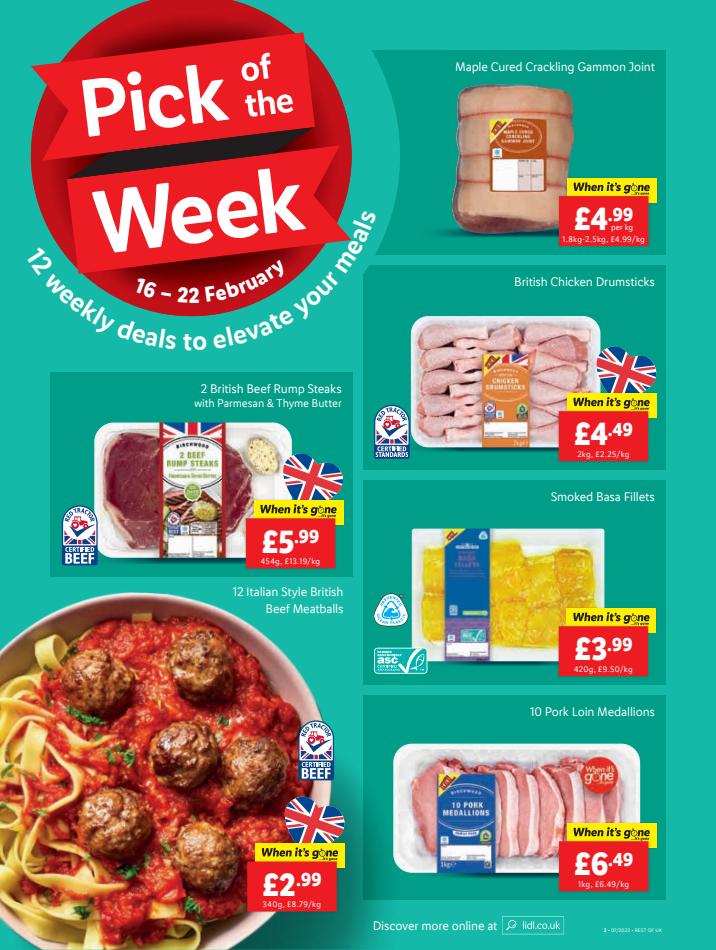 Pick of the Week
2 British Beef Rump Steaks with Parmesan & Thyme Butter, £5.99
Maple Cured Crackling Gammon Joint, £4.99
British Chicken Drumsticks, £4.49
Smoked Basa Fillets, £3.99
12 Italian Style British Beef Meatballs, £2.99
10 Pork Loin Medallions, £6.49
British Cameo Apples, 99p
Lemons & Limes, 89p
Blueberries, £1.19
Funsize Pears, 59p
Finger Chillies, 59p
Spring Onions, 39p
Pan-Great Day at Lidl
Lyles Golden Syrup 325g, 99p
Dr Oetker Pancake Mix 200g, £1.29
Mcenndey Pancake Mix 200g, 99p
Solevita Lemon Juice 200 ml, 29p
Cake Angels Flavoured Sugars 150g, £1.29
Nutella Hazelnut Spread 350g, £1.99
Durkee Marshamallow Fluff 213g, £1.99
Waffle Maker, £17.99
Sabishi 24 cm Pancake Pan, £4.99
Flavour of the Week Italy
Do you like Italian food? We definitely do! Italian cuisine is perhaps the most popular cuisine in the world, and you can find Italian food everywhere. The cuisine is characterized by fresh and local products used unprocessed. This way you can taste the pure taste of the ingredients. We are happy to share our Italian recipes with you. How about making your own pizza dough, pasta casserole, bruschetta salad, tiramisu or mushroom lasagna? Meat dishes, plenty of vegetables, fish, and sweet desserts are all covered. Check out our collection of Italian recipes below. Italians are the world's biggest pasta eaters. Average 28 kilos per person per year! In addition to the well-known spaghetti and pasta, there are about 300 other varieties. But there is more to be said about pasta... If la pizza is not the most famous Italian dish, then it is definitely the second most famous dish. Originally a 'poor' dish, this dish has its origins in Naples and has a rich history. For example, did you know that real pizza napoletana is a protected product and what is the difference between pizza and focaccia? This unique rice dish can be found in every fine Italian restaurant in the world. The unique thing about risotto is that it adapts to every palate if prepared correctly. You're looking for an original Italian product to surprise your table mates: gnocchi are a kind of small flat balls made from a mixture of wheat flour, possibly an egg, and boiled and mashed potatoes. You can also make your own gnocchi.
Lidl Offers This Week
Carpaccio with Parmigiano Reggiano & Extra Virgin Olive Oil 120g, £3.49
Extra Virgin Olive Oil 500ml, £4.49
9 Brushetta 342g, £2.99
Sun-Dried Tomatoes 100g, £1.99
Artichoke Hearts in Sunflower Oil 340g, £1.99
Pecorino Toscano DOP 350g, £4.99
Whole Green Nocellara Olives with Stone in Brine 700g, £2.49
Pork Salami 200g, £2.39
Mediterrean Antipasti Platter 400g, £3.49
Aurbergine Melanzane alla Parmigiana, £2.49
Arancini Italian Style Rice Balls 500g, £1.99
Durum Wheat Pasta 500g, £1.49
Italian-Style Family Pizza 2 x 535g, £5.99
Pizza Dough & Tomato Sauce 600g, £1.99
Mozzarella 400g, £2.49
Calzone Mozzarella & Tomato Sauce 250g, £2.59
Wood-Fired Pizza 400g, £2.59
Stonebaked Pizza 4 Cheese, £2.59
Pizza Tray, £3.99
Bamboo Pizza Board, £4.99
Pizza Tray Set, £9.99
Pizza Diavola 360g, £2.59
Tiramisu 2 x 80g, £1.29
Savoiardi Sponge Fingers 400g, £1.69
Italian Mousse Desserts 2 x 100g, £1.29
Italian-Style Ice Cream 750ml, £2.49
Caffe Tradizionale Whole Coffee Beans 1kg, £7.99
Espresso Magnifico Whole Coffee Beans 1kg, £7.99
Cantuccini Bicuits 300g, £1.99
Limoncino Originale di Sorrento 500ml, £9.99
Crema di Limoncino 500ml, £7.99
Cast Irons and Appliances at Lidl
Browse and buy great kitchen gadgets at affordable prices with Lidl! Here you will find small kitchen appliances of many well-known brands. Kitchen appliances are the essential foundation of any kitchen. After all, preparing delicious meals starts with good equipment. Thanks to advanced technologies for optimum ease of use and cooking pleasure, today's kitchen appliances are a real richness for your kitchen. Kitchen appliances are functional, but they also determine the look of your kitchen. Want to buy kitchen appliances but don't know exactly what you are looking for and what are the possibilities? Then read on and check out the kitchen appliances from Lidl's range.
Lidl Specials This Week
Ernesto Cast Iron Casserole Dish 4.6l, £34.99
1.35L Cast Iron Saucepan, £19.99
15cm Cast Iron Pan, £7.99
2.4L Cast Iron Tagine, £39.99
Cast Iron Grill Pan, £19.99
Tower 4l Air Fryer, £54.99
Silvercrest 1.8L Compact Air Fryer, £39.99
Silvercrest Raclette Grill, £24.99
Livarno Home Under-Cabinet LED Light, £6.99
Ernesto 3 Piece Stainless Steel Pan Set, £24.99
Ernesto Set of 3 Baking Trays, £7.99
Silvercrest Hand Blender, £12.99
Ernesto Food Storage Container Set, £8.99
Ernesto Bamboo Kitchen Utensil Assortment, 99p
Russell Hobbs 17l Manual Microwave, £69.99
DIY Essentials at Lidl
Multi-Purpose Cord, £5.99
Metal Shelving Unit, £39.99
Screwdriver Set, £9.99
VDE Screwdriver Set, £5.99
Duct Tape, £2.99
Hammer Assortment, £3.99
Try Square Set / Ruler and Level with Handle / Saw Angle Guide, £7.99
Crobar or Pry Bar Set, £14.99
Hook & Loop Cable Ties, £1.99
Extendable Ratchet / Extendable Ratchet Set, £12.99
Precision Tool Set, £4.99
Lubricant Spray 300ml, £2.99
Assorted Washers or O-Rings, £7.99
8-in-1 Ratchet Wrench / Multifunctional Ratchet, £9.99
Carabiner Clips or D-Shackles, £3.99
Spanner Assortment, £4.99
2-Component Epoxy Adhesive, £2.99