Lidl Offers 2 - 8 November 2023 promises XXL WEEK Sale this week! You can find hundreds of popular products at reasonable prices this week. Let's take a look at these specials to save more!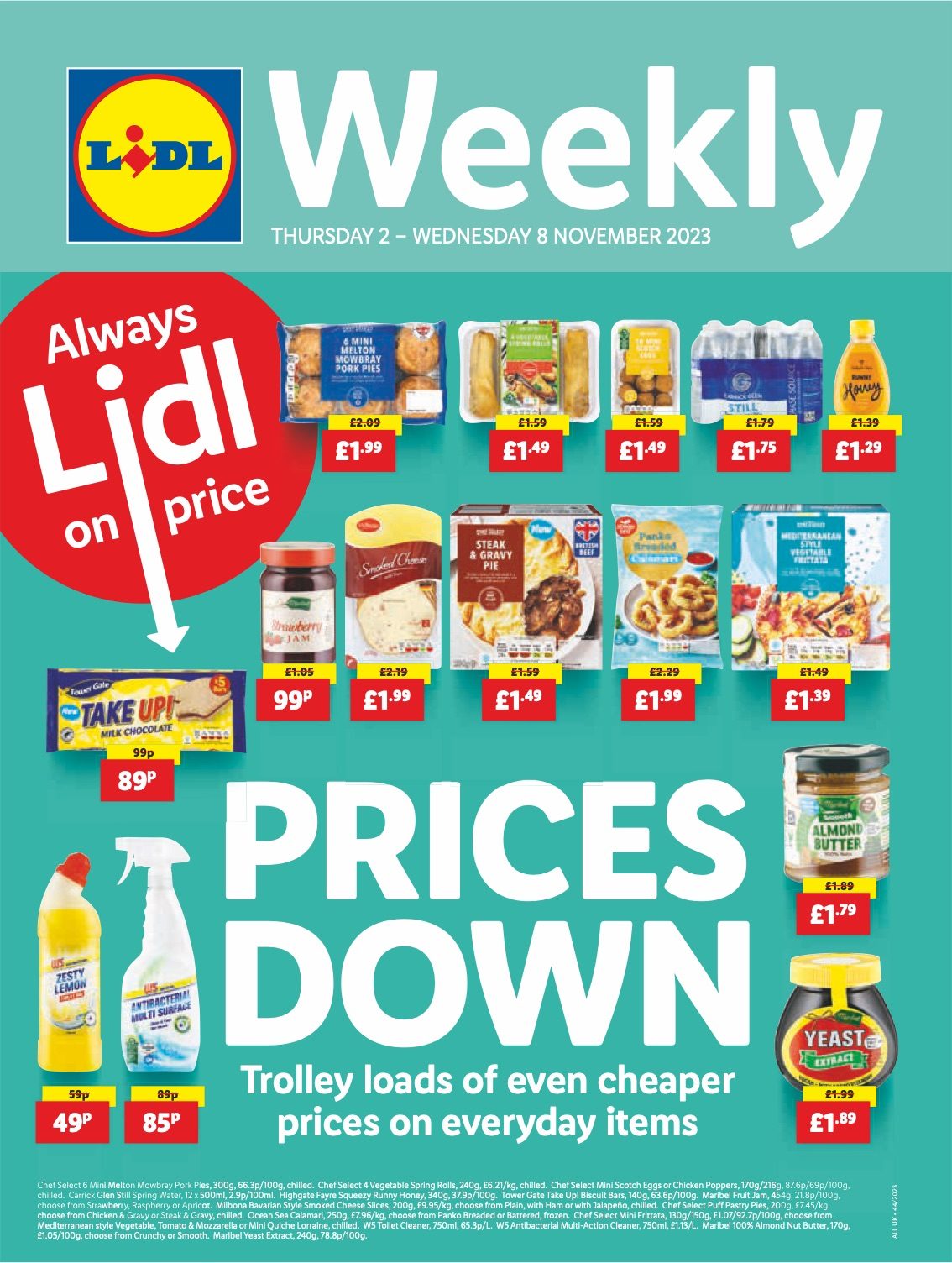 Lidl XXL Week November 2023
Good news for those who love to shop: Lidl is filling its shelves with its XXL Week event, offering exciting discounts to customers throughout this bargain week. If you like to buy quality food at reasonable prices, don't miss Lidl's XXL week!! At this event, a wide range of products from food to cleaning products are offered with deep discounts and special promotions. XXL Week usually takes place at specific times, during which Lidl stores offer customers significant savings. This event allows you to purchase items on your shopping list at more affordable prices.
Competitive Prices
Lidl is known for its competitive prices as a supermarket chain. The XXL Week event takes these competitive awards to the next level. Customers can purchase items typically considered expensive at incredible discounts during XXL Week. This offers opportunities for every budget and gives everyone access to quality products.
Fantastic Promotions
XXL Week not only has discounts but is also filled with special promotions. Lidl is offering customers exclusive offers during the event. Whether you're looking for significant discounts on fresh fruits and vegetables or want to buy your favorite snacks at a lower price, XXL Week provides numerous fantastic promotions in different categories. Lidl's XXL Week is an opportunity that shopping enthusiasts should not miss. If you want to buy quality food products at prices that fit your budget, it's highly recommended to follow this event and visit Lidl stores. With XXL Week, you can complete your shopping list at affordable prices and enjoy delicious meals.
Lidl Offers This Week
Tropicana Fruit Juice, £2.49
Milbona High Protein Pudding, £1.99
Milbona Gouda Slices 1 kg, £6.99
Delano Black Forest Ham Slices 250g, £3.49
Milbona Yoghurt Drink, £1.99
Milbona Full Fat Soft Cheese 300g, £1.29
Chef Select Gnocchi 1 kg, £2.49
Soly Mar Chorizo to Grill 376g, £2.99
Milbona Grated Mozzarella 500g, £3.49
Chef Select Tortellini 500g, £2.99
Baresa Pesto 550g, £2.49
Dulano Frikadellen 600g, £2.99
Mackie's of Scotland Potato Crisps 250g, £1.75
Chef Select & You Pitted Green Halkidiki Olives, £2.99
Alesto Almonds 500g, £3.99
XXL Snack Mix 300g, £1.49
Snack Day Twists with Better 200g, £1.39
Sondey Belgian Waffles 720g, £3.29
Bellarom Coffee Beans 1.2kg, £8.99
Rowse Squeezy Runny Honey 1.3kg, £5.99
McCennedy 8 American Style Pancakes 400g, £2.49
Leibniz Pick Up! Choco, £2.19
Sunday Chocolate Filled Wafer Biscuits 1kg, £4.99
Silentnight Specials This Week
In today's fast-paced world, the value of a good night's sleep can never be underestimated. Lack of sleep not only reduces the quality of daily life but can also harm our health. The key to a good night's sleep is comfortable beds and sleep accessories. That's where Lidl comes in, offering a wide range of products, from Silentnight electric blankets to pillows that prevent hormonal imbalance, helping you say goodbye to sleepless nights. Lidl Specials offers great sleep solutions at the most affordable prices.
Cozy Nights with Silentnight Electric Blankets
For those who crave a warm bed on cold winter nights, Lidl offers the perfect solution with the Silentnight brand electric blankets. These blankets provide individualized comfort with different heat settings. Plus, you can find these products at incredible discounts as part of Lidl's promotions.
Refreshed Mornings with Moisture Absorbing Products
A damp room can be the main reason why you have trouble sleeping. Lidl is doing its best to solve this problem with dehumidifying products. These items help maintain ideal humidity in your room, helping you wake up cooler and more comfortable.
Better Nights of Sleep with Hormone-Regulating Pillows
Hormonal changes can lead to sleep disorders, which is a common problem, especially in women. Lidl offers a solution by providing pillows that help regulate hormones. These pillows, thanks to their ergonomic design, help relieve neck and back pain, opening the door to a comfortable night's sleep. Lidl continues to be committed to providing customers with quality sleep products at competitive prices. With Lidl Specials, you'll benefit from special promotions that make these products even more accessible. Through these campaigns, you can buy quality products at prices that fit your budget. Remember that a good night's sleep is the foundation of a healthy life. With Lidl Specials, you can build that foundation more affordably. Visit a Lidl store today to discover quality sleep products and take steps towards the perfect night's sleep.
Lidl Specials This Week
Comfort Control Electric Blanket, £19.99
Silentnight Dehumidifer, £44.99
6.8 kg Weighted Blanket, £39.99
Livarno Home Blanket, £7.99
13.5 Tog Duvet, £12.99
Mattress Protector, £4.99
Deeply Filled Mattress Protector, £12.99
V-Shaped Support Pillow, £9.99
Anti-Snore Pillow, £9.99
Pillow Protector 2 pack, £4.99
Pillow 2 pack, £6.99
One Pot Cooks the Lot!
Preparing delicious meals in the kitchen is everyone's dream. However, if you have a busy lifestyle and can't dedicate much time to cooking, it's now easier to turn this dream into reality with the fantastic deals offered by Lidl and products like the Crock-Pot brand air fryer and slow cooker.
Your New Shopping Destination
Lidl is known as a supermarket chain that offers quality products at competitive prices. By consistently offering great deals to customers, they make the shopping experience even more special. Lidl Offers are filled with discounts and promotions on different products every week. By keeping an eye out for these opportunities, you can satisfy your cooking needs at an affordable price.
Silvercrest Air Fryer
Silvercrest is a brand known for its cooking expertise. Cooking with the Silvercrest brand air fryer available at Lidl just got a lot easier. Air fryers allow you to prepare delicious and healthy meals while minimizing the use of oil. Ideal for making perfect fries, chicken wings or vegetables. You can prepare your meals quickly and easily.
Crock-Pot Slow Cooker
Slow cooking is a great solution, especially for those with busy lifestyles. Preparing delicious meals just got a whole lot easier with Lidl's Crock-Pot slow cooker. This appliance will cook your meals slowly over a long period of time, allowing the flavors to blend perfectly. When you come home from work in the evening, you will prepare a hot meal and can treat your family or guests to a delicious feast. Preparing delicious meals in the kitchen just got easier and more economical. By purchasing products like Crock-Pot brand air fryers and slow cookers through Lidl deals, you can treat your family and loved ones to unforgettable meals. Don't miss out on the opportunities at Lidl, get your hands on these great products at reasonable prices and embark on a delicious culinary journey in your kitchen.
Lidl SpecialBuys This Week
Silvercrest XL Digital Air Fryer, £59.99
Crock-Pot 3.7 Slow Cooker, £19.99
Crock-Pot 1.8 L Slow Cooker, £14.99
Foolproof Slow Cooker or One Pot Cookery Book, £4.99