Lidl Offers 26 Oct - 1 Nov 2023 promises new special buys at pretty low prices this week! Wooden toys, Halloween specials, and much more products are on discount now! Let's take a look at these offers!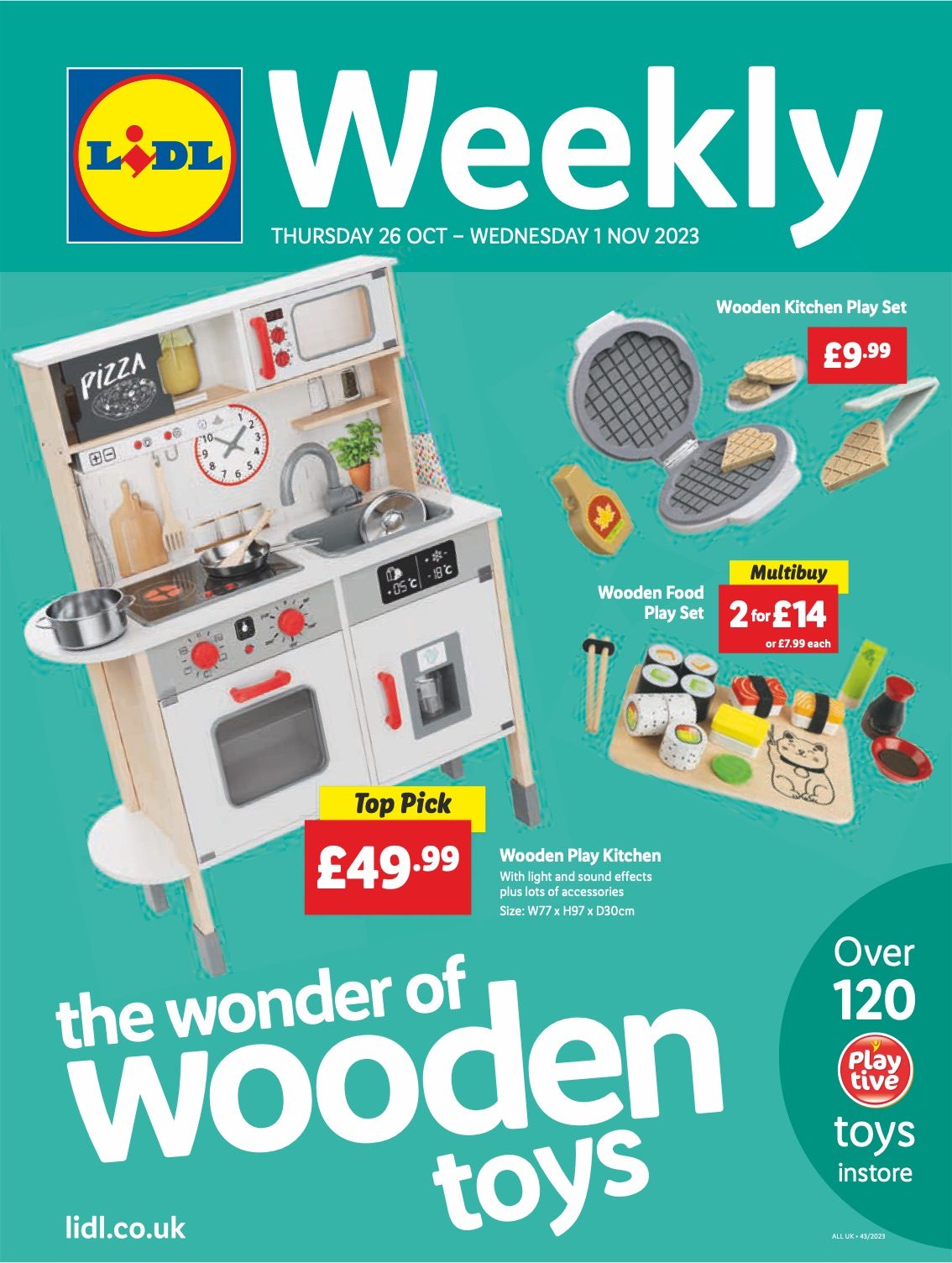 Lidl Halloween Specials 2023
Halloween, a time filled with spooky costumes, frightening decorations, and sweet treats! This Halloween season, Lidl is offering fantastic products specially designed for you at competitive prices. Make this fun holiday even more special with Lidl Halloween Specials. Lidl's special pumpkin-shaped candies are perfect for decorating or sweetening your Halloween tables. Don't miss these delicious treats at competitive prices. Lidl stores have a variety of sweet and savory snacks for your Halloween parties and cupboards. There are many options depending on your sweet or salty preference. Lidl hasn't forgotten about home decoration either. You can transform your home into a magical atmosphere with Halloween-themed decorations. Lidl offers different Halloween costume options, making it easy to find something that suits your style.
Customize Your Halloween Celebrations with Competitive Prices!
This Halloween season, Lidl will surprise you with affordable prices, making this special holiday even more economical. The products in the Halloween Specials collection stand out at affordable prices. Decorating your home in a Halloween theme and surprising guests with delicious snacks is now easier. Don't forget to come to the stores to prepare a grand Halloween party with Lidl's special offers. Lidl has a great range of products and competitive prices to make Halloween even more special and fun. Personalize your Halloween celebrations with Lidl Halloween specials and make the most of this wonderful holiday. Combine fun and savings and enjoy Halloween with Lidl!
Lidl Specials This Week
Halloween Chocolate Lollies 35g each, 99p
Fruit-Flavoured Gummy Worms 450g each, £2.49
Halloween Monster Chilli Cheese Nuggets 420g each, £3.99
Halloween Potato Shapes 450g each, £1.49
Milk Chocolate Balls 200g each, £1.99
Halloween Mallow Cakes 225g each, £2.49
Halloween Spooky Jelly Mix 1 kg each, £4.99
Dougnut 54g, 45p
Halloween Candy Skull 333g each, £4.99
Halloween Mallows 275g each, £1.49
Vampire Teeth 200g each, £1.29
Halloween Tongue Painter Sweets 300g each, £1.99
Wooden Toys by Lidl
Wooden toys are the ideal choice for parents looking for durable, environmentally friendly toys that help develop their children's imagination. If you are also looking for such toys, you will be pleased with the variety of wooden toys on offer at Lidl stores in the UK at competitive prices.
Discover Wooden Toys at Lidl
Lidl continuously offers a variety of wooden toys, ensuring fun and educational experiences for children. You can support your child's creativity and problem-solving skills with products like wooden puzzles, wooden ships, wooden building blocks, and more.
Competitive Prices
Lidl is known as a store that provides wooden toys at affordable prices. Considering the durability and longevity of wooden toys, shopping at Lidl is both fun and economical. During the Lidl wooden toys sale, you can take advantage of discounts on these products and save money.
Frequently Updated Stocks
Lidl regularly introduces new products in the wooden toys category. You can find wooden toys to suit all tastes and ages. So by regularly visiting Lidl stores or checking their online stock, you can keep up to date with the latest products.
A Wonderful Gift for Your Children
Wooden toys available at Lidl are a great gift option not only for your child but also for the children of your friends and family members. Wooden toys can be a unique and high-quality gift option. If you are interested in wooden toys and are looking for excellent products at competitive prices, don't miss the Lidl wooden toys sale. They offer a budget-friendly option that satisfies both your child's entertainment needs and your wallet. Please note that stocks may be limited, so we recommend you visit Lidl stores or start shopping online early so you don't miss out on the Lidl wooden toy sale. Wooden toys are a great choice to help children play and learn.
Lidl Offers This Week
Wooden Activity Toys, £24.99
Wooden Learning Toy, £3.99
Musical Instruments, £14.99
Wooden Learning Toy, £9.99
Wooden Marble Run, £14.99
2-in-1 Baby Clinic and Vets, £39.99
Wooden Kids' Easel, £24.99
Wooden Magnetic Letters / Numbers, £5.59
Playtive Wooden Dolls' House, £29.99
Playtive Wooden Dolls' House Accessories, 2 for £12
Wooden Tabletop Kitchen Workbench or Dressing Table, £19.99
Wooden Coffee Bar, £29.99
Kitchen Play Set, £9.99
Wooden Food Play Set, 2 for £14
Play Shopping Basket, £4.99
Wooden Kitchen & Shop Appliances, £12.99
Wooden Railway Accessories, £7.99
Emergency Vehicle Set, 2 for £10
Wooden Train Assortment 5 piece set, 2 for £10
Wooden City Express or Dinosaur Land Train Set, £39.99
Remote Control Train - 4 piece set, £9.99
Wooden Construction Site or Renewable Energy Train Set, £29.99
Wooden City or Farm Train Set, £12.99
LEGO Sale at Lidl
Lidl has become a place where everyone can purchase fun and creative LEGO sets for their families at affordable prices. Lidl stores in the UK offer exciting opportunities for LEGO enthusiasts. Learn more about the competitive prices and fantastic promotions on LEGO products with this Leaflet. Lidl offers a budget-friendly shopping experience for families by providing LEGO sets at competitive prices. For those looking to find LEGO products at affordable prices, Lidl offers an unmissable opportunity. Lidl encourages diversity in LEGO sets. You can find LEGO sets in a variety of themes to suit your child's interests at Lidl. There are many different theme options, from space stations to fairy tales.
An Ideal Choice for LEGO Enthusiasts at Lidl!
With competitive prices and attractive promotions on LEGO products, Lidl has become the ideal shopping destination for LEGO enthusiasts. Families can trust Lidl stores to provide their children with cost-effective LEGO sets to develop their creativity and play. Don't forget to visit Lidl to take advantage of LEGO opportunities and control your budget! If you're looking for competitive prices and great deals on LEGO products, Lidl UK could be the ideal choice for you. Visit Lidl to buy LEGO sets at affordable prices, making them a perfect gift option for your children and a fun family activity. Don't miss out on the opportunities Lidl UK has to offer LEGO enthusiasts!
Lidl Special Buys This Week
Lego Kids' Hoodie, £6.39
Lego Kids' Joggers, £5.59
Minecraft Play Set, £13.49
Lego 3-Drawer Storage Rack, £34.99