Awesome deals on European foods, pet care, camping and more can be found on Lidl Offers 4 - 10 May 2023! You should check out these fabulous events and great offers this week!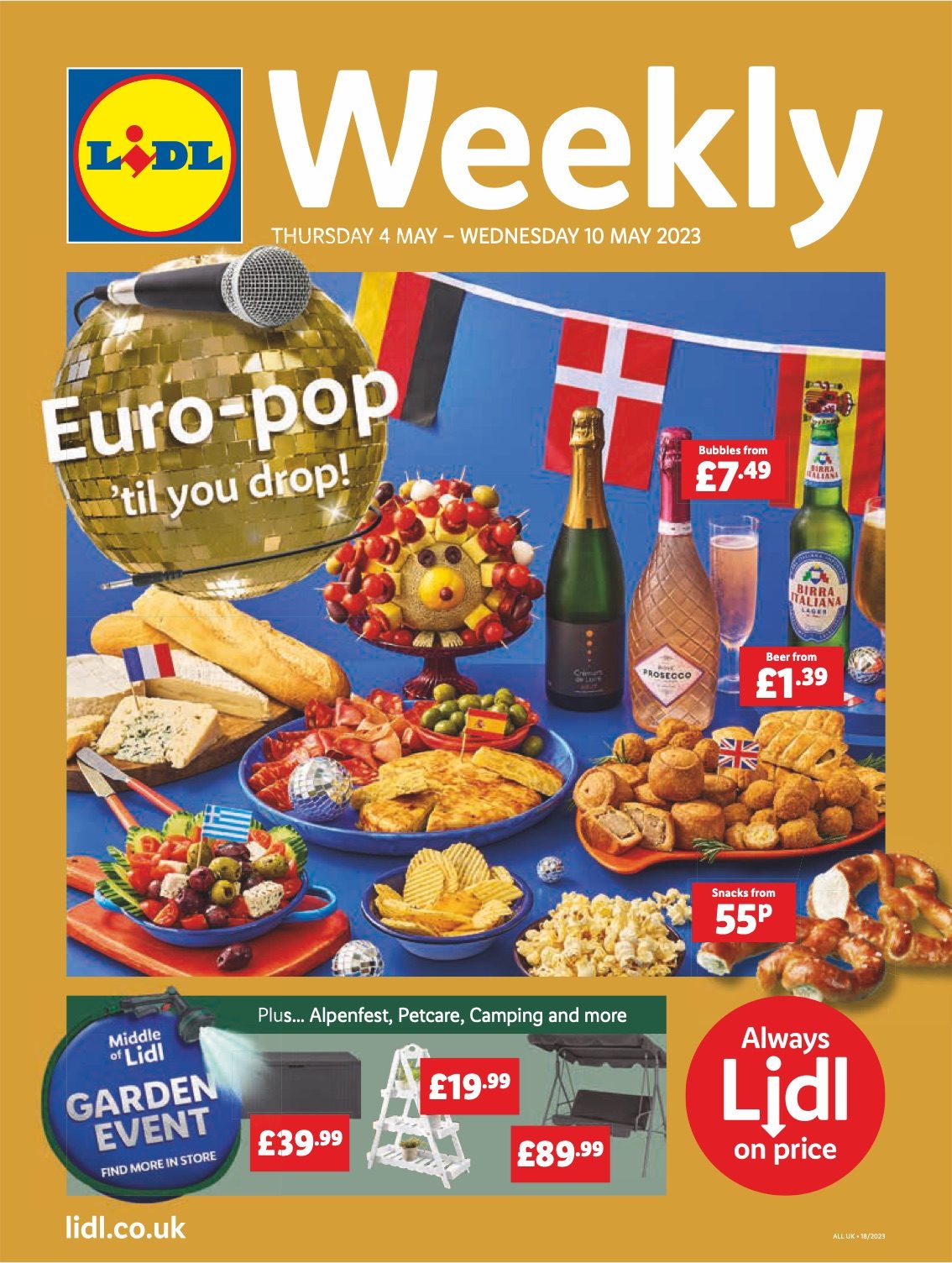 Delicious Selection ad Lidl!
Bake Off French Baguette 400g, 99p
Deluxe Roquefort 150g, £3.25
Meadow Fresh Greek Olives 150g, £1.79
Deluxe Ridge Cut Crisps 150g, £1.09
Sol & Mar Tortilla 500g, £2.45
Cremant de Loire Brut 75cl, £8.99
Snaktastic Popcorn 200g, £1.79
Chef Select Mini Melton Mowbray Pork Pies 300g, £1.99
Prosecco Spumante Rose Extra Dry 2021 75cl, £7.49
Birra Italina Lager 500ml, £1.39
Chef Select 10 Snack Sausage Rolls Assorted 300g, £1.39
Alesto Cashews 200g, £1.79
Bake Off Pretzel 95g, 55p
Hand Finished Victoria Cake 396g, £2.19
A.Carpentier Champagne Brut 75cl, £13.99
Strawberry Conserve 450g 450g, £1.79
Coronation Muffin 100g, 89p
Deluxe Strawberry & Cream Mini Cupcakes 9 pack, £2.29
Meadow Fresh Deli Filler - Coronation Chicken 250g, £1.49
Deluxe All Butter Scones 4 Pack, £1.39
Flavour of the Week: The Alps
A blend of nature and history, the Alps offer some of the most beautiful landscapes in the world. You can also find a wide variety of delicious cuisines in this wonderful region. The Alpine kitchen captivates with its special features, unlike those of other European regions. Alpine cuisine consists primarily of hearty, warm dishes prepared to protect the body from the cold, harsh winter conditions. It is known for its variety of meat dishes, hot soups, cheeses and desserts. For example, a famous alpine dish is raclette, made with cheese from cows raised at high altitudes. Serve with cheese, vegetables such as potatoes, pickles and pickles. Fondue, which is eaten by dipping bread in melted cheese in a pot, is also popular. In the Alps you will also find dishes such as beef and pork goulash, dumplings, hot soups and hot drinks such as tarhana. Alpine desserts are also incredibly delicious. One of the most famous sweets is Swiss Toblerone chocolate. Other sweet options include strudel, apple pastry, apple cake, sweet apples, and Kaiserschmarren, which is an omelet with sugar. In summary, Alpine cuisine is globally recognized for its unique flavors and rich history. Highland vegetables, fresh dairy products and meats give the region's cuisine its unique flavors and aromas. If you have the chance to visit this beautiful region, I highly recommend trying these flavors.
Lidl Offers This Week
Viennese Style Pork Schnitzel 750g, £4.99
Chicken-Free in a Crispy Golden Crumb 180g, £1.99
Classic Rosti 500g, £1.99
Bavarian Style Meatloaf 400g, £2.49
Viennese Style Apple Strudel 375g, £1.99
Florentines 125g, £1.99
Crumble Tart 1.25g, £4.99
Berner Style Rosti 500g, £2.49
Marzipan Crescents 175g, £1.99
Traditional German Noodles 500g, £1.49
Pancakes with Filling 5 x 85g, £2.49
White Pork Sausages 351g, £1.99
Small Pork Knuckle 500g, £3.99
Bratwurst Pork Sausages 400g, £2.49
Potato Croquettes 600g, £2.49
Freshona Pickled Red Cabbage 680g, £1.49
10 Ready to Bake Pretzels 870g, £2.49
Smoked Mini Salami 250g, £3.49
Sweetened Nuts 150g, £2.49
Slow Cooked Pork Knuckle 600g, £4.49
Perlenbacher Wheat Beer 500ml, £1.39
Delicious Bakeries at Lidl
Lidl is known for its high quality baked goods and always offers a wide selection to its customers. Lidl's baked goods range from a variety of snacks to freshly baked breads and pastries. Lidl's baked goods remain as fresh and delicious as they are prepared in the bakery. It is popular not only for its quality, but also for its reasonable price. Find out more about Lidl's baked goods here.
Fresh bread:
Lidl's bread is freshly baked and delicious. Choose from a variety of varieties including whole grains, sunflower seeds, rye, bran and baguettes.
Pastries:
Lidl pastries come in a variety of flavors. Options include fruit tarts, trifle, cheesecake, and chocolate cake.
Snack:
Lidl offers many snack options. Here you can find oven-baked crackers, cookies, pastries, breads and many other delicious snacks.
Pizza and cake:
Lidl also has a large selection of pizzas and cakes. Here you can find ingredients for homemade pizza recipes as well as ready-to-eat meals. Lidl's baked goods satisfy your taste buds with a variety of flavors. In addition, Lidl uses quality ingredients in all of their products to make their baked goods delicious and healthy.In addition, Lidl's affordable prices allow customers to enjoy quality baked goods without going beyond their budget. can be obtained.
Lidl Specials This Week
Assorted Baked Cookies 68g, 45p
Pizza Slice 130g each, 89p
Focaccia 120g, 89p
Low GI Multiseed Cob 400g, £1.79
Croissant 76g, 49p
Doughnuts 53g, 39p
Ultimate Chocolate Brownies 66g, 69p
Pastel de Nata 58g, 59p
Belgian Bun 88g, 65p
Cinnamon Bun 88g, 65p
Maple & Pecan Plait 82g, 59p
All Butter Pain au Chocolat 83g, 59p
Seeded Sourdough Loaf 400g, £1.79
Lidl Garden Event May 2023
This awesome supermarket focuses on providing customers with quality products at affordable prices. Lidl's spring event, the Lidl Garden Event, is aimed at guests interested in outdoor activities in early spring. During this event, Lidl will offer a variety of products at affordable prices, including garden furniture, garden tools, plants, lawn mowers, and garden decoration items. The Riddle Garden event also has a wide variety of plants and flowers for sale. For those who want to enjoy gardening with the arrival of spring, this is an event with a large selection of great products. Additionally, Lidl is providing free brochures and online guides for customers who want to learn more about gardening products during the event. Lidl Plus is a loyalty program offered by Lidl to its customers. The program allows customers to save money and benefit from various promotions when shopping at her Lidl. Customers who download the Lidl Plus app are entitled to special offers, discounts and other benefits. Lidl Plus offers its customers exclusive discounts, so there are even more ways to save with Lidl. In other words, the Lidl Garden Event is a sales event for garden products hosted by Lidl at the beginning of the spring season. Additionally, Lidl Plus is a loyalty program that offers our customers a variety of great benefits when shopping with Lidl.
Lidl Special Buys This Week
Livarno Home LED Solar Glass Lantern, £4.99
Rocktrail Gazebo, £29.99
Livarno Home LED Solar Lights, £5.99
Livarno Home Decorative LED Solar Light, £4.99
Garden Swing Seat, £89.99
Parasol Base Weights, £39.99
Cantilever Parasol, £79.99
Folding Garden Chair, £39.99
French Lavender, £4.99
Strawberry Grow Bags, £4.99
Livarno Home Plant Ladder Stand, £19.99
Raised Planter, £39.99
Gardening Gloves, £3.99
Vegetable Seeds, 4 for £1
Grandiose Multi-Purpose Compost 40l, £3.49
Livarno Home Garden Storage Box, £39.99
Parkside All-Purpose Tarpaulin, £9.99
Parkside Paintbrush 3 pack Set, £2.99
Livarno Home Garden Screening, £24.99
Discounts on Pet Essentials
Lidl offers a wide range of products for pet owners. These products include dog food, cat food, toys, leads and grooming products. Lidl's pet products are made from high quality materials and are reasonably priced. Our products are carefully developed to meet your pet's nutritional needs and contribute to their overall health. His Lidl range of dog and cat foods are specially made for different needs. For example, a dog nutrition program includes healthy ingredients such as meat, vegetables, and grains. There are nutritious and delicious cat foods that are rich in protein and vitamins. Lidl pet toys are perfect for meeting your pet's exercise needs. There are many options for dogs such as balls, tag toys, and bones. For cats, you can choose interactive toys with wings and lights. Additionally, Lidl offers a variety of pet care products. These products include shampoos, leashes, ear cleaners and nail clippers. Carefully designed to help maintain your pet's hygiene and stay healthy.
Lidl Leaflet This Week
Zoofair Cat Scratching Surface, £7.99
Karlie Pet Claw Clippers, £2.99
Karlie Catnip Ball, £2.99
Dog Collar and Lead, £12.99
Retractable Dog Lead, £7.99
Zoofari Pet Bed, £24.99
Wahl Corded Pet Clipper 9 piece set, £19.99
Dog Harness, £9.99
Outdoor Specials at Lidl
Rocktrail 4 Person Tent, £59.99
Rocktrail Kids' Sleeping Bag, £19.99
Bestway Airbed, £12.99
Rocktrail Folding Camping Bed, £29.99
Rocktrail Ultralight Sleeping Bag, £19.99
Auriol Binoculars 10 x 50, £19.99
Rocktrail Waterproof Poncho, £11.99
Rocktrail LED Camping Light, £14.99
Kids' Camping Chair, £9.99
Rocktrail Kids' Hiking Backpack / Toy Bag, £9.99
Rocktrail 30L Hiking Rucksack, £14.99
Folding Trolley, £69.99
Tronic USB Car Charger, £4.99
Rocktrail Cool Bag Assortment, £12.99
Rocktrail Portable Coffee Maker, £14.99
Livarno Home Sunlounger, £39.99
Rocktrail Camping Table, £29.99
Rocktrail Folding Camping Chair, £12.99
Livarno Home UV Insect Killer with Light, £13.99
Ernesto Aluminium Pan Set, £24.99
Livarno Home Sunlounger Cushion, £29.99
Personal Care Specials at Lidl
Silvercrest Facial Steamer, £13.99
Livarno Home Makeup Brush Set, £7.99
Silvercrest Professional Ionic Hair Dryer, £12.99
Nevadent Water Jet Flosser, £24.99
Silvercrest Cordless Hair & Beard Trimmer, £14.99
Addis 4L Bathroom Pedal Bin, £9.99