ALDI Leaflet 28 May – 4 June 2023 is consist of many special parts such as the Big Pet Event, Home Fitness, Bank Holiday BBQ, and more this week! Browse this week's super weekly offers!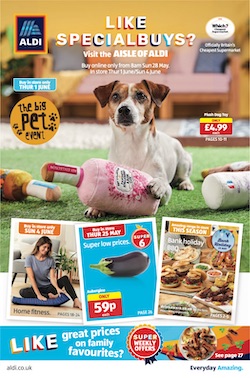 Bank Holiday Sales at ALDI
Vacation is approaching. We all look forward to relaxing, having fun, and of course enjoying delicious food, right? Luckily, one of his favorite UK supermarkets, ALDI, is offering great deals and specials over the Bank Holiday weekend. In today's article, we're introducing ALDI's exclusive holiday offers and flavors. If you're ready, let's take a look together!
If you want to celebrate your weekend holidays with a cozy barbecue party in your garden, park or terrace, ALDI offers you the best option. Choose from fresh meats, marinated burgers, sausages, marinades and more. Be sure to also check out their selection of ALDI products, including delicious salads, sauces and snacks. A barbecue party will be an unforgettable celebration of taste.
For seafood lovers, ALDI offers attractive fresh seafood deals. Fresh salmon fillets, shrimp, squid, fish and more will add color to your holiday weekend table. You can grill seafood, add it to salads, or try special seafood recipes. Perfect for those looking for a healthy, nutritious and delicious option.
If you want to spend a wonderful holiday with your children, ALDI treats for children are the perfect choice. Colorful, fun-packed snacks, fruit juices, and healthy treats keep kids energetic and happy. You can pamper your child with delicious and nutritious treats.
ALDI Specials This Week
Marinated King Prawns 150g, £2.79
Flame Baked Flatbreads 4 pack, £1.15
Seeded Brioche Burger Buns 4 pack, £1.15
2 Pack The Ultimate Burgers 2 pack, £2.89
Brioche Hot Dog Rolls 6 pack, £1.35
British Seasoned Sausages 400g, £2.49
Harper's Summer Ale with Peach 500ml, £1.69
The Big Pet Event at ALDI
Hello dear pet owners! I have great news today. Aldi's newest event, The Big Pet Event, is about to begin! Aldi is back in action with this event to make your pet happy and to offer special products.
Find out all about your beloved pets at the Big Pets event. Aldi offers a wide range of products specifically for dogs and cats at discounted prices. Thanks to this event, meeting the need for a cute companion has become much more affordable. First, there are many products that are great for dog owners. Soft beds, dog play areas, convertible travel crates that turn into toys… Aldi thinks about everything to make your pet comfortable and happy. Moreover, these products are made from high-quality materials and are durable.
They also have unique products for cats. Whether it's a scratching post, a toy mouse, a tunnel or a special bed for your cat to snuggle up in, Aldi helps pamper your pet by offering a variety of options to suit their needs. All of these products are designed to support your pet's health and entertainment.
The Big Pet event is also an ideal opportunity for anyone who cares about their pet's health. Aldi supports you and your loved ones with quality pet food, delicious treats and nutritious diet products. Taking care of your pet's diet and helping them lead a healthy lifestyle just got easier.
ALDI Offers This Week
Medium Plastic Dog Bed each, £12.99
Plastic Bed Fleece Liner each, £12.99
Comfy Pet Bed small, £12.99
Large Donut Pet Bed each, £19.99
Summer Harness each, £6.99
Pet Collection Cordless Pet Grooming Kit, £22.99
Plush Dog Toy each, £4.99
Rope Dog Toy each, £2.99
Treat'n Brush Toy each, £2.99
Outer Seam Dog Toy each, £3.99
Dog Training buzzers set, £19.99
Suet Balls / Suet Pellets 1.5kg, £2.25
Double-Walled Pet Bowl each, £6.99
Gym Equipment at ALDI
Exercise is very important to maintain a healthy lifestyle and stay fit. However, going to the gym takes time and money. Luckily, you can bring your own fitness studio into your home with ALDI's range of fitness equipment. And the biggest feature is that it is offered at an affordable price!
ALDI is a retail brand known for its high quality, affordable products. In recent years, it has also made a name for itself in the field of fitness products. Fitness enthusiasts can easily train and reach their goals at home with ALDI fitness equipment.
Perfect for supporting strength training, their dumbbell sets are available in a variety of weights. ALDI typically offers dumbbell sets with a variety of weight options. These sets can be used for bodybuilding, toning and strengthening purposes.
A yoga mat is essential for improving flexibility and balance. ALDI makes training even more fun with comfortable, non-slip yoga mats. It is a mat that can be used both indoors and outdoors, and it is also characterized by its low price.
Stability balls are an effective way to improve strength, balance and endurance. ALDI offers exercise balls in a variety of sizes and durability levels. These balls are great for Pilates, yoga and strength training. If you want to run in the comfort of your own home, consider ALDI's inexpensive treadmill options. With its durable construction and various speed settings, the treadmill is a powerful support for your cardio training.
ALDI SpecialBuys This Week
Kettle Bell 6 kg, £6.99
1kg Dumbbell Set, £5.99
10 kg Adjustable Dumbbell set, £19.99
20 Piece Straw Set, £3.99
Acupressure Mat each, £9.99
Balance Cushions / Core Sliders 4 pack, £4.99
Adults' Running Trainers pair, £21.99
9 kg / 12 kg Slam Ball, £6.99
ALDI Super 6 Sale
Finding quality products at affordable prices when shopping is a desire shared by everyone. In this regard, ALDI supermarkets feature unique offers for their customers. In particular, the Super 6 Sale and Super Weekly Offers provide customers with delicious and inexpensive shopping opportunities.
ALDI's Super 6 offer includes his 6 varieties of fresh fruits and vegetables that change weekly. You can purchase seasonal vegetables and fruits at reasonable prices. These offers are a great way for anyone who wants to eat healthy or prepare delicious meals at home. With the ability to create new selections every week, variety and freshness are always guaranteed.
In addition to Super 6 offers, ALDI's Super Weekly Offers are also very popular. These sales include weekly specials and often feature discounted prices on exclusive products and brands. Customers can find attractive offers such as deep discounts on meat products and discounted prices on household cleaning products. Super Weekly Offers make your shopping experience even more exciting by offering new surprises to our customers every week.
ALDI's Super 6 Sale and Super Weekly Sale allow customers to shop at lower prices while still offering quality products. ALDI specializes in maintaining a balance between the quality and affordability of the products they offer our customers. Therefore, customers can save money and have a great shopping experience by shopping at this supermarket.
ALDI Super Weekly Offers
Aubergine each, 59p
Avocado each, 69p
Jersey Royal Potatoes 500g, 69p
Extra Fine Beans 200g, 99p
Large Vine Tomatoes 500g, 99p
6 Pack Jazz Apples 6 pack, £1.29
Chip Shop Curry Fish Fingers 360g, £2.79
667g 10 Pack Pork & Apple Sausages, £3.99
Minted Lamp Shoulder Chops, £6.99